The Rock up for G.I. Joe 2?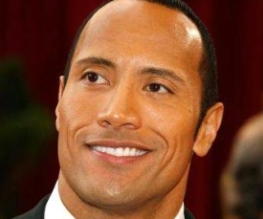 The Rock, ahem, we mean Dwayne Johnson has entered talks to join G.I. Joe 2: Cobra Strikes. If you don't mind we'll take a moment to lament this news.
Ok, we're done. Despite being a film we'd rather believe didn't exist and a follow-up to one some may call fun but others (like us) will call a garbled piece of Hollywood nonsense based on a toy line (deep breath), Paramount has made it a priority to get this out ASAP as Star Trek 2 is still in limbo (but not actually doing the Limbo mind you)
Johnson looks to be taking the role of Roadblock, a bad-ass African American (is there any other kind?), who serves the dual role as the Joe's machine gunner and their, erm, chef. Expect the best jambalaya a burly soldier can provide then.
Channing Tatum (he who can't act) is in talks to reprise his role of Duke and, if he signs, he'll join Lee Byung-hun (Storm Shadows) and Ray Park (Snake Eyes). Incidentally does anyone remember what Ray Park looks like now? Unfortunately Joseph Gordon-Levitt (the best thing about the original) confirmed he won't be returning and and we still haven't heard the status of other cast members (Sienna Miller, Rachel Nichols). Paramount has G.I. Joe: Cobra Strikes as their priority and hope to get it in cinemas by August 2012.
About The Author