Blake Lively and Leonardo Di Caprio are a couple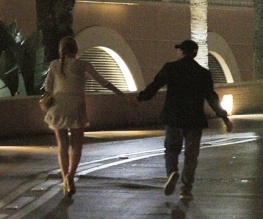 Best for Film are not trashy gossip-hounds, but the pairing of one of Hollywood's hottest actresses, Blake Lively and Titanic, Inception starring complete unknown (fnar) Leonardo di Caprio has not gone unnoticed, and may well make waves in Hollywood.
Lively was apparently turned down for the role of Daisy in upcoming The Great Gatsby in favour of Carey Mulligan (not because of lack of chemistry with Di Caprio we presume, fnar, fnar), but she needn't cry herself to sleep just yet, what with major roles in forthcoming The Green Lantern this August, and in Hick in 2012. Plus Lively has signed on for Oliver Stone's Mexican drug cartel blockbuster Savages which is set to be colossal, and where she'll be joining an all star cast of John Travolta, Salma Hayek, Aaron Johnson and Uma Thurman.
Di Caprio on the other hand has big, big movies J. Edgar, The Great Gatsby and potentially Quentin Tarantino's Django Unchained pencilled in for the next 2 years, so even if they can't be on the same continent for more than 5 minutes, Hollywood maths means that 2 celebrities as a couple = even more heat generated for these projects.
Is it too early for the glamorous twosome to sign up for a remake of/sequel to Titanic? Fnar, fnar, fnar Shoot. Us. Now.
About The Author