Things that should never happen: A Jumanji remake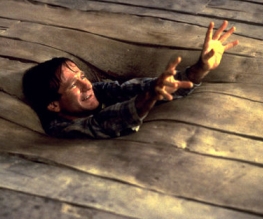 If rumours that Sony have officially sold their soul and are intending to remake Jumanji turn out to be true, I will personally stage a nationwide boycott. I will picket every day of filming, poison the catering van and write several strongly worded letters of complaint. Jumanji does not need to be remade, or even "rebooted and updated for the present". It's perfect as it is thank you very much, and you've already made a wildly unsuccessful 'spiritual sequel' in the form of Zathura back in 2005 (its got Josh Hutcherson and Kristen Stewart in it) – leave our treasured memories alone!
What are you doing up there in your offices Sony, when you're done cavorting with the devil, of course? Do you rifle through your back catalogue, dust off old VHS cassettes and say 'how about this one guys? Will Smith will probably pay to have his offspring in it.' You'll all be joining me on the boycott, because there's no one in the whole world who thinks Jumanji needs some soulless update. 'In the jungle you must wait, til the dice read five or eight'. Remember how terrifying that was? Remember when Robin Williams comes out of the game and he's been there 26 YEARS – you can't just reboot that kind of magic.
It won't be a huge loss, but the Sony films you can never watch again when the boycott goes live are: rebooted Bewitched, rebooted Spider-Man, rebooted Ghostbusters, all the Karate Kids, including the rebooted Karate Kid, Stuart Little and its two sequels, all the Men in Black, including the FOURTH one Sony want made, and the sequel to 21 Jump Street they want to start shooting before the year is out.
Ready your pitchforks people…
About The Author