This Is 40 trailer released, ages badly.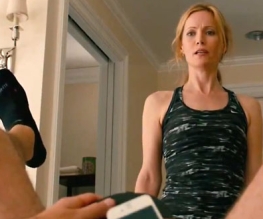 Though some of us here at BFF are getting a little long in the tooth, none of us are sporting the elephant tusks you'd believe were coming out of Leslie Mann's beautiful face, the way she's blithering on about ageing in the trailer for This is 40. In Judd Apatow's "sort-of sequel" to the begrudgingly funny Knocked Up in 2006, the far-superior couple who provided far-superior comical back-up to Katherine Heigl and Seth Rogen get a big ol' budget all to themselves. Some of which was used, for whatever reason, to hire Megan Fox to bring her boobs onto set for the day. Exhibit A:
Maybe it's because some of us are still young enough to be affected by the vestiges of pubescence, but Jesus, old people don't half complain. The couple portrayed by Mann and Paul Rudd (The 40 Year Old Virgin) are financially stable, objectively attractive, and possess two reasonably attractive children who are relatively intelligent, quite funny and seem capable of independent defecation. As far as life is concerned, they're not just winning, they're #winning. Which they could probably tweet from the youngest daughter's iPad if they could just stop stress-eating $12 cupcakes for a moment.
If it weren't for how reliably funny these two are under the tutelage of Mann's husband, and the quite adorable fact that Apatow's actual daughters with Mann play the on-screen kiddiewinks, you wouldn't catch us dead seeing it – not even if we were as close to it as they think they are.
Looking to be at least half as underwhelming as genre-mate Friends With Kids, This is 40 creaks into theatres on a dissatisfied Zimmer frame on December 19, 2012.
About The Author