Trailer released for Richard Linklater's Bernie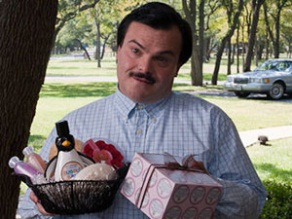 The trailer for Richard Linklater's black comedy, Bernie, has been released. The film stars Jack Black as small-town do-gooder Bernie who takes an unlikely liking to the local Miss-Havisham-esque bitch, played by Shirley MacLaine. As expected, they're hardly a match made in heaven and, from the trailer, it looks like Bernie puts the old biddy out of her (and his) misery.
Judging by the trailer, the film has a semi-documentary feel to it, integrating interviews with gossipy locals into a fairly conventional comedy narrative. Black looks comfortable in the role of tubby, wouldn't-hurt-a-fly Bernie, and Shirley MacLaine looks energetic and strangely hot for an 80-year-old woman.

About The Author