Transformers 4 finds its young leads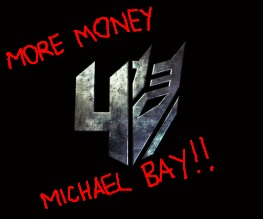 Transformers 4: More Alien Toys, was roundly snubbed by man-that-sounds-like-an-expensive-haircut Shia LaBeouf, who's taken all he can out of the Transformers name and moved on to bigger and better things. Or psychic alien crystal skulls. As a result, Michael Bay was left sobbing in a corner bemoaning the lost chance to squeeze any more drops of cash out of this wrinkled and shriveled shadow of an idea. Who you gonna call when you want to breathe new life into a dying film franchise? Ex-90s rapper Marky Mark Wahlberg, of course! This distasteful man-lump has somehow managed to land the role of Michael Bay's BFFE after all the fun they had making Pain & Gain together and is claiming his right to a nice fat chunk of the Transformers pot o' gold.
But who will replaces LaBeouf and his series of inexplicably attractive girlfriends? After an extensive screen-test process, Bay appears to have cast relative unknowns Brenton Thwaites and Nicola Peltz as the wholly unasked-for next generation of the some-machine-befriending-and-other-machine-destroying saga. Peltz has to her name an appearance in the M. Night Shyamalan shambles The Last Airbender, which is awarded a disastrous 6% approval rating on Rotten Tomatoes. She is set to raise her profile next year, though, through a role in the prequel series to Hitchcock's Psycho; Bates Motel.
Brenton Thwaites is unfortunate enough to have made his name on the star-studded Aussie soap Home and Away, otherwise known as that-one-that-isn't-Neighbours, but is breaking into bona fide cinema (sort of) with a role in 2014's Maleficent alongside Angelina Jolie. Bay explains that these two young striplings will be facing up to the giant plastic toys four years after the events of the last movie and claims he's taking the franchise in a whole new direction. However, with his protagonists a high-school girl and her bike-racing boyfriend, he doesn't seem to have strayed far from the LaBeouf/Fox template. Hey, if it ain't gonna make you broke, don't fix it.
So the time has changed, and the human leads have changed, but surely all the toys are still the same, right? Just for continuity? Oh no. Don't think anyone will get away with playing with the old, unnecessarily expensive merchandise, not when there can be another direct stream of cash to the warped hands of evil masterminds Bay and Wahlberg. Michael Bay is essentially robbing us all and we at Best For Film have never shied away from vigilante justice.
Will Transformers ever be the same without Shia LaBouffant? Should Michael Bay be allowed to continue these atrocities against humanity? Tell us below.
About The Author