Twilight – Breaking Dawn to begin shooting this autumn?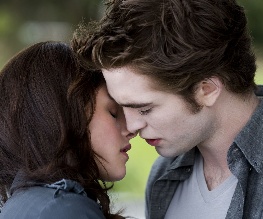 The Twilight Saga: Breaking Dawn is the fourth and final book in the series. It won't be easy going for its filmmakers though. It might be released as one film, it might be released as two, the script hasn't been finished, the effects are yet to be decided and no cast has officially signed up. Despite this, producer Wyck Godfrey told the LA times that filming is set to commence in autumn 2010,  shortly after the release of the third film in the series Eclipse.
*Spoiler Alert! Breaking Dawn will present a lot more filming challenges because of its content. Apart from the effects of body-horror, the second half of the book includes a half-human half-vampire baby girl genius, who can walk and talk by the time she is just one week old which will require more CG than ever.
Although everything is still up in the air, there's no doubt that the film will get made considering, the success of the last two films. Not even a walking, talking, one week old vampire can stop them.
Do you think the final installment of Twilight should be divided into two films?
Tell us below…
About The Author