Sex and the City 2 trailer hits the web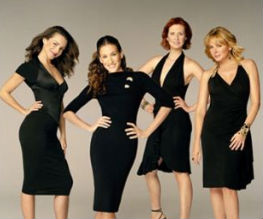 As Sarah Jessica Parker and co prepare themselves for a return to the silver screen this summer, Universal have kindly gone and released a brand-spanking new Sex and the City 2 trailer. Following on from 2008's massively successful Sex and the City,  this summer's most anticipated chick flick sees the continuation of the fab foursome's New York escapades.
Last time round we saw our Carrie tie the knot with on/off loverboy Big, but word on the grapevine is that our leading lady is miffed with married life. With former flame Aidan returning to the scene, Carrie has some tough decisions to make. The movie is packed full of cameo appearances, with the likes of Heidi Klum, Miley Cyrus (groan) and Mariah Carey joining the original cast of Sarah Jessica Parker, Kim Cattrall, Kristin Davis and Cynthia Dixon. Ooh la la.
The Sex and the City 2 release date is set for 28th May 2010.
Salivating at the return of Sarah Jessica Parker and chums or fearing "Trainwrecks in the City 2?" Let us know below…
About The Author