Vin Diesel's Riddick gets its R-rating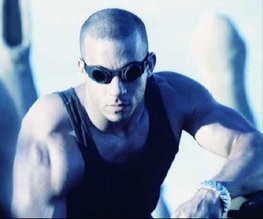 Vin Diesel has been talking up the next entry in the Riddick franchise as being a return to the darker origins of the character for a long time now, but despite skepticism, it seems like he's been true to his word. Riddick, the belated sequel to the lacklustre The Chronicles of Riddick, has been granted an R-rating, which is definitely encouraging news.
Pitch Black – Riddick's first outing – was a fantastic little B-movie; the smart script, great performances and stunning visuals pairing with scary and exciting monster-movie thrills to provide one of the best sci-fi horrors out there. And, of course, it birthed Riddick, one of the greatest anti-heroes of recent years. Sadly, the sequel tried to broaden its horizons and expand the universe that Riddick inhabited (so well drawn with little details in Pitch Black), but somehow managed to turn it into a rubbish, mythological mess. Thankfully, Riddick will see a return to the former. After all, we've got three new Star Wars films on the way to cover us on the rubbish mythology front!
The plot involves everyone's favourite murderous bastard being stranded on a sun-scorched and uninhabited planet, finding himself being hunted by the indigenous wildlife. His only means of escape is to activate a distress beacon that will alert every bounty-hunter in the universe as to his location. Talk about a rock and a hard place, eh?
The plot sounds little more than an excuse to pit Riddick against various alien monsters and equally hard-bastards, and we couldn't be happier about it. That's what Riddick is designed to do, and with the R-rating, we trust it won't be shying away from the violent, scary potential of that synopsis. Our only concern is that if Riddick is stranded alone, he'll have nobody to deliver menacing one-liners to!
Are you looking forward to seeing Riddick get back on track? Express your excitement below.
About The Author