Will Hugh Laurie get his evil on in Robocop?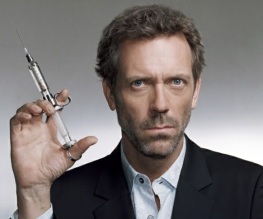 The last time Hugh Laurie graced our screens as a proper baddie (not just as grumpy, misanthropic House) it was as dognapping pseudovillain 'Jasper' in 101 Dalmatians. However, if current talks with Elite Squad director José Padilha go according to plan then, come 2013, he'll be stepping into his baddie boots once more as Omnicorp's evil CEO in the remake of 1987 action-satire Robocop.
Jumping on the 80s remake bandwagon (take a bow, 21 Jump Street/Footloose/The A-Team/The Karate Kid/Conan the Barbarian…) Robocop will retell the story of a corrupt Detroit set somewhere in the near future, where a murdered policeman is revived in the form of a super-human cyborg law enforcer to bring peace to the city.
If Laurie signs, he'll join a stellar cast set to include scientist Gary Oldman, media magnate Samuel L. Jackson and Joel Kinnaman (from hit TV show The Killing) in the lead role. A talented bunch in anyone's book; hopefully they'll pack enough of a collective acting punch to match what will no doubt be a great deal of actual punches. Padilha has promised a decent social commentary on corporate America and the rising power of technology which, combined with his proven skill with gritty violence and growing cast of serious talent, should make Robocop into something a little more special than your average 80s remake…
By Tessa Coates
About The Author