Zindagi Na Milegi Dobara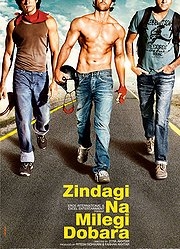 Mumbai-born director/writer Zoya Akhtar did her film training in New York – and it shows. Although it stars some of Bollywood's hottest acting talent, Zindagi Na Milegi Dobara is a celebration of typically Western ideals – labels, ladz and having a bloody right laff. There's been some contention as to whether embracing this more Hollywood-esque style puts traditional – and much loved – Hindi fare in danger, but as far as I can see a good film is a good film. And Zindagi Na Milegi Dobara is a good film, regardless of which genre it shimmies into.
Having recently proposed to his girlfriend, Kabir (Deol) is determined to renounce single life in style. He rounds up his two oldest friends: devil-may-care ladies' man Imran (Akhtar) and fastidious workaholic Arjun (Roshan), and reminds them of a pact they made – that they would spend three weeks travelling round Spain, trying out three extreme sports chosen by each of them. It soon becomes clear that a murky past between them has meant this trip has been put off many times, but Kabir is determined: this summer they party. And eventually the boys have no choice but to pack their bags, don their Ray-Bans and swoop into business class. Let the trip of a life-time commence.
So far, so Todd Philips. But Zindagi really begins to fly once the trip is underway, the car is rented and we finally settle into the dynamic of the central threes' relationships. Unbeknown to the others, Imran is determined to use this trip to call in on the father who abandoned him at birth, Ajrun is struggling with a personal life that has long since been crushed by his avarice and it isn't too difficult to see that Kabir isn't in paradise with his lucky lady. But when you're supposed to be having the time of your life, how do you tell your best friends that you're certainly not?
Had Zindagi Na Milegi Dobara been trimmed to the standard buddy-road-trip length of around an hour and a half, it could easily have been a film not worth bothering with. The wonderful thing about it is that its confident enough in its characters, its premise and its structure to let things unravel at a believable pace, rather than shovelling years of friendship into a couple of sketches and hoping no-one wants anything deeper. The three leads are perfect in their roles, playing off each other with wit, warmth and ease, and their relationships feel years old just minutes into the film. Managing to perfectly encapsulate the familiarity, irritation and shifting loyalties of friendships too old to abandon, the three work so comfortably together that when we shift into song-and-dance mode it honestly just feels like part of the banter. Song and dance banter, people. Is there a higher form of banter?
Still, even with the glorious on-screen chemistry (and almost uniform shirtlessness), two and half hours of simmering friendship is a rather big ask from any audience. This is where Zoya Akhtar's canny structure really kicks in. By ensuring that the seemingly petty squabbles of the boys are regularly punctuated by utterly, utterly amazing shots of skydiving, deep-sea plunges and more (don't want to spoil the fun, after all), Akhtar guarantees a pace kicker everytime you fear your attention might start to waver. As the boys confront their fears in their personal lives, so too must they push themselves physically, and the emotional release of finally letting go of all that holds them back is enough to punch you in the your dried-up, un-skydiving heart.
Perhaps the nicest thing about Zindagi Na Milegi Dobara is that it reminds us that comedy doesn't have to be pointy, snarky and barely-there; it can be ambitious, eager, joyful and hopeful. Go and watch it, enjoy every gorgeous shot and don't feel the least bit guilty when you end up with a ridiculous grin on your face. Seth Rogen and co will still be here next week.
About The Author