Hyde Park on Hudson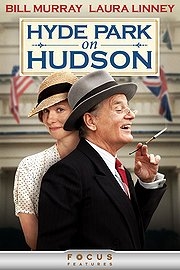 Bit of a history lesson for y'all: in 1939, at the start of the Second World War, alliances needed to be formed. Great Britain knew they needed more support in order to … well, survive the war. With American support behind them, Britain's chances of making it out alive would be far more superior than otherwise. I haven't told you this just to lecture you, this is precisely what Hyde Park on Hudson tells the story of; the young King George VI (West) and Elizabeth's (Colman) visit to Franklin D. Roosevelt's gaff (stately home, whatever) and their nervous attempt to build a friendship with the President and America – whilst spending the entire film worrying about eating hot dogs. Sounds pretty simple, right?
Hyde Park on Hudson looks like the sort of film your mum would love, and probably force you to watch (don't worry, Mother Day's is still 2 months away). That's precisely what it is, but it's also very sweet, and Bill Murray's Roosevelt is perfectly loveable despite all his naughty affairs, the dirty rascal. Inviting the king and queen of Great Britain to his extravagant country estate at Hyde Park on Hudson (that's upstate New York not London), the film records a weekend of lavish dinner parties, cocktails and the President's rather indiscreet affairs. Hyde Park on Hudson's other plot centres on Daisy (Linney), Roosevelt's fifth cousin and mistress (so so naughty). Based on the diaries of Margaret Suckley (the real life Daisy), Daisy recounts the romantic drives through the countryside her and Roosevelt took in the midst of a brewing war, whilst reminding us of his deteriorating health and the precarious balance between the other important women in his life.
King George VI and Elizabeth are a couple constantly on edge, and for very good reasons. As Roosevelt says, "there may not be an England to be King of [after the war]," and their close partnership juxtaposes that of Roosevelt and his wife Eleanor (Olivia Williams). Americanisms and Britishisms are humourously paralleled, with Elizabeth remaining a quintessential uptight b-i-t-c-h in certain scenes. BUT SHE'S THE QUEEN! Calm yourselves, she's also in a bit of a tough position at the moment. Let her be a bitch for a bit. Unfortunately the film dallies so much between both these plots that it's difficult to work out exactly what Hyde Park on Hudson is about, eventually transforming into an aimless reconstruction of a weekend of unimportant affairs.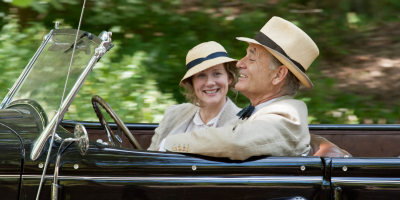 First and foremost; Murray's performance is a treasure, consistently engaging, suave and jovial. And that's exactly what he is, isn't he? A cuddly treasure. If you've always wanted to give Bill Murray a cuddle you'll want to even more after this film. His Roosevelt is the grandpa you wish you had, not only because he's the president, but he's also full of stories from bygone days about different women he's shagged. Daisy happens to be one of these women. Linney depicts Daisy as a naïve little lady, hopelessly fawning after Roosevelt and no doubt hoping something will eventually come of it. Tsch, does she know nothing about these promiscuous presidents? In comparison, Roosevelt's mother (Elizabeth Wilson) is a surly cow, which is precisely what she's supposed to be. Samuel West's King George is endearing, if a little silly at times. Both Colman and West make a plausible young and apprehensive King and Queen, and it's easy to see director Roger Michell's dry sense of humour fabricating itself in their petty grievances with having to make to do with eating hot dogs at a picnic and staying in a room with humiliating British v USA cartoon banter.
And yet. The script is no masterpiece; the film relies too much on Murray's Roosevelt as its sweetener because it's often all it has driving it (to where, exactly, is unclear). Hyde Park on Hudson may look like Downton Abbey from the outside, but it sorely lacks the creative flair of Julian Fellowes' witty dialogue. Daisy's disappearance halfway through the film and then her sudden reappearance and focus on that side of the story feels disjointed and as nervous as our on-screen royal couple. It never quite pulls both off together. Having said that, it's a light relief from the 5-hour long oh-so-serious films we have at the moment, not naming names (Zero Dark Thirty and Lincoln).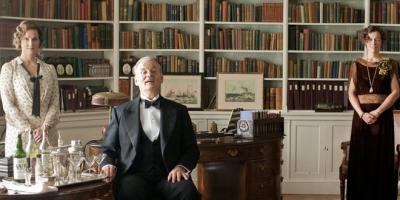 Hyde Park on Hudson doesn't have the same punch as The King's Speech, and it certainly won't be everybody's cup of tea. But without sounding patronising, it really would make the ideal Sunday afternoon film. What more could you want on a summery British weekend than a film about royals, love affairs and midsummer days? The film succeeds in its nostalgic roots, helped along by breathtaking scenery and of course, Bill, but suffers from a lack of structure and plot. Sadly, it'll leave audiences confused, thinking, 'so, what exactly was that about?'. But if Hyde Park on Hudson is to be remembered for one thing besides Bill Murray, it'll be for its touching conclusion that presidents, monarchs and politicians are merely human, and behind closed doors behave just so.
About The Author