The Death and Life of Charlie St. Cloud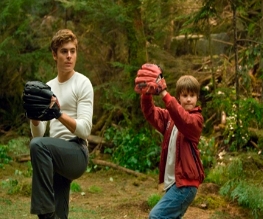 To be fair, Charlie St. Cloud (Efron) seems a bit intense from the start. He's a good looking chap and a strong sailor and yet he doesn't really embrace his teenage years. His only friend seems to be his little sprout of a brother, Sam (Tahan) who he spends all his time with and who wants to hang out with a kid? So when the two boys are involved in a collision, Charlie not only loses his beloved sibling, but the only person he enjoys the company of. Then Mum (Kim Basinger but she doesn't really look like her anymore) departs without so much as a fond farewell, Charlie becomes a gravekeeper and the ghost of Sam continues to show up at their daily baseball-throwing activity.
[FLOWPLAYER=http://uk.image-1.filmtrailer.com/37601.jpg|http://uk.clip-1.filmtrailer.com/4815_14043_a_5.flv,275,180]
But then it allllll changes. And yes, it is indeed a girl (Crew) who is the catalyst for such disorder. Wouldn't you know it. Charlie has to decide between hanging out with his dead bro or palling up with a hot piece of ass. What would you choose? Charlie, being a sensitive soul, finds the decision rather difficult and boy don't we know it! Yeah alright, cry me a bloomin' river, Chaz.
The whole film is very Efron-orientated. Efrorientated. Which is great for the teenage girls out there who want to see a good looking male try to be oh-so strong on the outside even though he is crumbling on the inside. Unfourtunately, I still remember the happy-go-lucky Efron in High School Musical, dancing about like a child on too much jelly and ice-cream. And try as I might (and even though he's older than me) it's a struggle to watch him as a mature adult trying to be integral. But that's not to say he can't do it, in fact, I did shed approximatley two tears in The Death and Life of Charlie St. Cloud when I was moved by his emotion. But I know I didn't look as good as he did when he was crying. So I stopped.
Put you're sixth sense AWAY, dammit. There is no need for it here.
The main problem with The Death and Life of Charlie St. Cloud is that it could be a lot simpler. We could just have a grieving Charlie struggling to let go of his dead brother's memory, which would be a lot more emotionally accessible then if you whack in a whole other kettle of fish in the shape of a Sixth Sense I-see-dead-people-who-may-not-even-be-dead type vibe.
Throw in an unexplainable cockney side-kick (Augustus Prew), who sounds like Naboo from The Mighty Boosh but less funny and with no turban, and you've got yourself an attempt at a fantasy led, teenage swoon fest. Bring tissues as wetness springs to mind in more ways than one. Tears, sailing, plus a bonus rainstorm montage. But the only wetness worth watching are the drips dripping off the big drip himself.
About The Author