Alvin and the Chipmunks – Double Trouble: DVD Review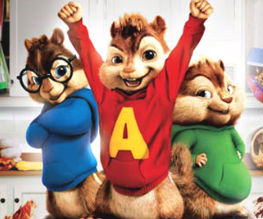 First they released Alvin and the Chipmunks, a horrifically high-pitched cacophony of holiday season 'fun'. With kids flocking to the cinemas in droves, the inevitable follow-up, painfully labelled 'The Squeakquel' materialised in late 2009. Following the DVD marketing mantra of "everyone loves a film series packaged in the same box with loads of extras" to the letter, the unavoidable 'Double Trouble' has surfaced, breaking the record for "the biggest piece of crap to ever be released in a two-disc box set".
Chip off the old block?
Trying to decide which of the two films is the better watch is pretty much like deciding whether you'd rather eat dog excrement or cat excrement. The first instalment sees Dave, played by Jason Lee of My Name is Earl fame (looks like Earl is going to have to add this to his 'list') , fortuitously stumble upon a trio of singing CGI-rodents in his kitchen. Naturally, they're introduced to über-greedy manager Ian Hawke (David Cross), who ousts the nurturing Dave and tries to exploit them for all they're worth. Lo and behold the naïve trio reach global-superstardom, realise that Ian is one bad egg and end up back with Dave. Awwwwww.
Alvin 2 – New Chipmunks Low
Everyone over five's least favourite three-piece return in The Squeakquel. This time Dave has been seriously injured thanks to the egotistical Alvin's onstage showmanship, and Dave's nephew and lifelong bum Toby (Zachary Levi) is left with the task of looking after the chipmunks. Having decided that three irritating singing chipmunks wasn't enough, The Squeakquel introduces 'The Chipettes', a (you guessed it) female trio of chipmunks who serve part as musical rivals (later collaborators) and part as love interest. In addition to this, we witness the world's worst love interest story as the bumbling Toby (the serial masturbator-type) defies all human logic by ending up in a clinch with his punching-WAY-above-his-weight teen crush. Ian tries and fails again to make some money out of The Chipettes, Dave recovers and they all live happily ever after. Pass us the sick bucket.
Avoid the vermin!
Now, we here at Best for Film towers do admit to more than a passing fondness for the Alvin and the Chipmunks cartoon of yore (what else was there to watch on those pre-SM:TV Saturday mornings?). Unfortunately, this big-screen adaptation does not reignite the reminiscing child within Best for Film. The live action/CGI mix is awkward and ungainly, the plots are as weak as a politician's election promises and hearing those squeaky voices for a period longer than five minutes is akin to nails on a chalkboard. Double Trouble is a truly apt name for this DVD offering, and we urge all those with eyes and ears to avoid this like the plague.
Special Features
*Chip Chip Hooray! Chipmunk History
*Featurette: Hitting The Harmony
*Munk Music Machine
*Sing-A-Long music videos
*A Digital Copy
About The Author