This Is It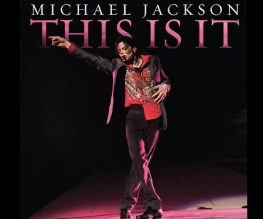 Do you remember those video clips of live Michael Jackson performances  from back in the 80s? Girls would cry hysterically, try to rush the stage but faint before they'd get the chance. Boys would watch his moves in awe, trying to emulate his effortless routines and the infamous moonwalk. We're sure that had his untimely death not occurred, Jackson's final tour would've had the same effect on a new generation of fans. That's something which sadly, will remain unknown. Even so, at least Kenny Ortega's offering of behind the scenes footage, however lukewarm it might be, gives us a tiny glimpse of an artist who affected popular music like few have ever before.
The film is certainly not, as Elizabeth Taylor avidly stated, "the single most brilliant piece of filmmaking I've ever seen". Neither is it an adequate send off for one of music's last remaining legends. But for all Michael Jackson fans (which should be everyone), it's sure to make hairs stand on end. In terms of trying to show how good he actually was through this collection of rehearsal clips pieced together and scored by classics such as Billie Jean and Don't Stop Till You Get Enough, it's obviously not as breathtaking or overwhelming as the tour would've been. However this is not to say that creative director Ortega (Dirty Dancing and High School Musical) failed. After all, it's a difficult ask to try and communicate Jackson's magic presence onstage via film. What it does confirm though is that despite his skeletal frame and seeming frailty, Jackson was in good health and still had the same enchanting aura he posessed, back when he out-sang his siblings and became the undisputed King of Pop.
Michael Jackson always said, "I want to start where everyone else would end". The film doesn't do enough justice to his musical and choreographic brilliance – it might be called 'This Is It' but we know that this is definitely not. Michael Jackson's legacy will live on forever.
Special Features
The Unfinished Rehearsals Featurette
2 Making-Of Documentaries
The Gloved One Costumes Featurette
Memories of Michael Featurette
Auditions: Searching for the World's Best Dancers Featurette
Theatrical Trailer
About The Author