The Ugly Truth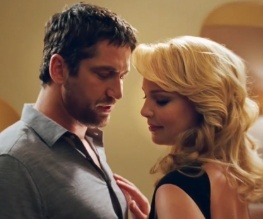 Take a romatically challenged, cynical workaholic and cross her with a victim of heartbreak who thinks with what's in his pants. What do you get?  True love apparently. Boy meets girl. Girl hates boy. Boy wins girl over. It's nothing we've never seen before – The Ugly Truth is your typical boring battle of the sexes 'romantic comedy'.
Television producer Abby Ritcher (Katherine Heigl) is forced to hire Mike Chadway (Gerard Butler) as a relationship correspondent on her morning TV show and she gets more than she bargained for. In her desperate search to find the perfect man, Abby has lived a life of singledom for far too long. Using his ample experience in giving honest and ruthless relationship advice, Mike assures Abby that he can help her bag the man of her dreams. With his help she embarks on a mission to win the heart of a doctor, but as the doctor slowly falls for her Mike gets unjustifiably jealous. Her witless desperation teamed with his failing vow against love, Abby and Mike find themselves in a sticky situation.
Cheap laughs and suggestive pillow-talk is all the rage for films of this kind. The plot is predictable right from the first flirtily hostile conversation between Heigl and Butler. The humour is obvious and often laboured. Whilst Heigl might bring some kind of charm to her role (because let's face it, no-one can do blonde bimbo better than a real-life blonde bimbo), Butler is definitely not as enticing, handsome or lovable as everyone likes to make out. With his cringe-worthy faux-American accent in full glory and his annoying lop-sided smile, we can't understand what makes women swoon over him.  All in all, yet another sickly film to leave us with a floating outlook on relationships. And that's the ugly truth.
Special Features
Select Scenes Filmmaker Commentary
The Truth is Ugly: Capturing the Male & Female Point of View
The Art of Laughter: A Making of Hilarious Proportions
Deleted and Extended Scenes
Alternate Endings
Gag Reel
About The Author