Brüno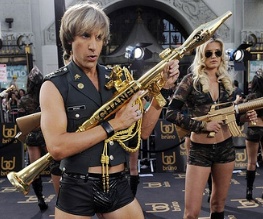 Fashion frolics, man on man action, casual racism, religion bashing and swapping a baby for an iPod. These can only mean one thing – Sacha Baron Cohen. This is the third character Cohen has created that is ignorant of anything socially or morally acceptable. He throws political correctness out of the window once again, and brings us the most vulgar and tasteless movie since Ali G and Borat – Brüno (perhaps Borat's distant, gay German relation twice removed). And all for a few laughs.
Brüno (Cohen) is the voice of the Austrian youth, ambassador for homosexuals and fashionistas far and wide and probably the only man since Matt 'the only gay in the village' Lucas, to get away with wearing leather hot-pants. He travels to America in search of fame. After being ridiculed in his homeland and with the cancellation of his TV show 'Funkyzeit', Brüno embarks on a trip to Los Angeles accompanied by his assistant Lutz (Gustaf Hammarsten). Armed with his super-tight, super-short and super-chic Lederhösen and his desperation to be a celebrity, Bruno cannot fail. Like with Borat, there is no real plotline and the film is more like a documentary. Amongst the action, Brüno adopts an African baby, causes havoc in red-neck Texas and exchanges words with unknowing fashion insiders, icons and some of the random innocent bystanders to his outrageous antics.
Sacha Baron Cohen's films are never going to be classed as  cinematic masterpieces or even comedic masterpieces for that matter. Even so, there's no denying that his brazen attitude and infamous ruthless, crude character concepts, from Ali G to Borat and Brüno, seem to have been created to make audiences laugh, cringe and maybe even get a little annoyed and that is exactly what they do. Love it or hate it, you can't deny that Brüno is perfect for a cheap laugh at things you're not really supposed to laugh at.
Special Features:
Deleted and extended scenes
Interview with Lloyd Robinson
Enhanced commentary and behind the scenes
About The Author