Four Lions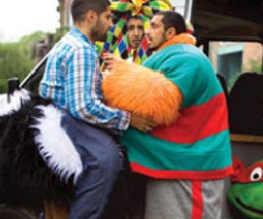 Chris Morris has been playing skipping games with controversy for most of his television and radio career. As the face and co-writer of the BBC2 comedy The Day Today, he mercilessly lampooned the sensationalist British news media, before taking his coruscating brand of satire to new heights on Channel 4 with Brass Eye (a paedophile dressed as a school? Yeah, we all remember that one), In The Loop and The Thick Of It. His debut feature film – centring on a group of would-be suicide bombers – does not disappoint. Despite its evident potential for distaste and disaster, Four Lions is in fact a satirical triumph, reminding us all that the best – and sometimes only – weapon we have against fear and stupidity is laughter.
"What are we gonna blow up, lads?"
[FLOWPLAYER=http://uk.clip-1.filmtrailer.com/4524_11803_a_3.flv,275,180]
The script, co-written by Morris, Jesse Armstrong and Sam Bain (penners of the utterly glorious Peep Show), portrays our wannabe-bombers as clumsy, insecure, funny and loyal friends, who are liable to set off their deadly devices before they ever get to the heart of London. At the centre of the operation lies Omar (Riz Ahmed), a devout Muslim enraged by the West's treatment of his spiritual brothers and sisters. He spearheads a terrorist cell in the heart of multi-cultural northern Britain with best friend Waj (Kayvan Novak), paranoid white Islamic convert Barry (Nigel Lindsay), slow-but-willing friend Faisal (Adeel Akhtar) and cocky terrorist/rapper Hassan (Arsher Ali). The jihadists debate potential targets for their deadly payload (which include Boots, a mosque and "the internet") and eventually the terrifyingly sensible Omar brings the men together to pose as charity fun runners in the capital, with the aim of blowing themselves up on the streets and taking innocent members of the public with them. When they finally arrive in London, a policeman approaches them, "You're all gonna die in that gear, lads", laughs the copper, referring to the possibility of heat exhaustion inside the colourful costumes. "It's all for a good cause though isn't it?" Omar replies nervously, the double meaning obvious to everyone except the PC.
Four Lions quotes…
Waj: "We'll blow something up."
Omar: "What we gonna blow up Waj?"
Waj: "Internet".
In this world, everyone is a target
The wonderful thing about Four Lions – and possibly its saving grace – is that no one is safe from the razor sharp eye of Chris Morris's derision. This is not an attack on Islam, far from it, this is an attack on stupidity itself. The infinitely better-resourced policemen are just as inept as our would be terrorists, highlighted in a scene of absolute genius where two marksmen accidently shoot a member of the public dressed as Chewbacca after being told to take out a bear costume. "Wait, was that a bear? Or a wookie?" asks the marksman, far too late. The reply – "No, it must be the right man, I shot him" is possibly the single greatest dressing-down of our state system I have ever heard. The script, we have to say, is close to perfection, managing to wring deafening belly laughs and gasps of horror moments apart from one another, taking us effortlessly on an ultimately tragic tale of brotherhood, sacrifice, power and guilt. Ahmed is a triumph as Omar, the straight – and terrifyingly normal – man to Novak's dim-witted but heartbreakingly trusting best friend. As the plot develops, it is their relationship that we follow; their undeniable faith in and love for one another overshadowed by utter idiocy. Watching their exchanges is simultaneously hilarious and heartbreaking; a beautifully played tragedy perfectly navigated by both the cast and the writing.
We are not afraid
Four Lions is ultimately unflinching attack on stupidity – stupidity of the idea of suicide bombing, the stupidity of our state control and of the panic nation that we have become as a result of fear. You will laugh, you might cry and you could even feel that after watching, you've re-gained a little of the spirit that fear would take away from us. Chris Morris, you are our greatest weapon against mass hysteria, and we are glad to have you on our side.
About The Author