The Firm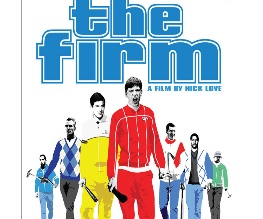 The Firm is a re-make of a classic TV film of the same name, originally directed by Alan Clarke for the BBC. Not only was it critically acclaimed, but it also gave Gary Oldman his springboard into stardom. Well done all round, we're sure you'd agree. So could this re-make push the accolade of the original? Considering the director is Nick Love, a man well versed in football hooliganism having directed both The Football Factory and The Business, we went into this rather optimistically. The result? A well paced, humourous and action-filled hooligan romp which is well worth a watch, without really adding anything new to the original.
The Firm is set in England in the 1980s and centres around a young working class boy who feels stuck in a boring, humdrum existence in a poor area of London. One day, his life takes a swift turn when he joins a football club – or 'firm' – lead by the charismatic yet terrifying Bex (Paul Anderson). Bex is is a housing property salesman by day but by night is a violent yob who organises mass fights between his own crew and other firms loyal to different football clubs. The main rival firm? A Milwall firm, lead by a man named 'The Yeti' (Daniel Mays). The conflict between the two groups begins to spiral out of control, and the young lad finds himself trapped in a no-win situation; fight, or be defeated.
The Firm is well constructed, balancing violence and palpable tension with an undercurrent of humour. Though it brings nothing really new to the hooligan/gang film genre, The Firm is a good representation of football hooliganism in the 80s, neither afraid of its material, nor milking it. But to be honest, if we were you, we'd just go buy the original. No offense Nick.
Special Features
* Making-of-doc
* Anatomy of a fight scene
* Being an Extra
* Typography
* Web Videos
* Alternative Endings
* Deleted Scenes
* Commentary with Director Nick Love
About The Author