The Shawshank Redemption DVD Review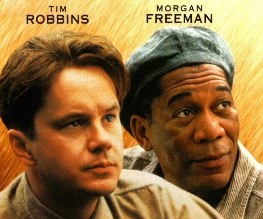 Morgan Freeman lends his hypnotic, rasping voice (is it wrong that a seventy-three year old man can make me go weak at the knees?) to yet another screen classic, as he narrates this adaptation of Stephen King's novella, 'Rita Heyworth and the Shawshank Redemption'. This is a bold drama which doesn't shy away from the brutality which is needed to authenticate the setting and the narrative. It left me pondering the concept of freedom, whether we are bound by our physical or mental constraints. A moving score by Thomas Newman adds to the haunting atmosphere of this film.
Making Waves
Set in the Shawshank Prison Penitentiary in the 1940s, we follow the story of Andy Dufresne (Tim Robbins), a stiff-collared banker who is wrongly sentenced for the murder of his wife and her lover. From his first night in the prison, Andy stands out like a Swarovski ring in Primark and the inmates place bets on him to be the first of the 'newbies' to cry. But Andy holds a dignified nerve, a steely defiance which is to characterize him for the duration of the drama. As the years move on, the character finds solace in fellow inmate 'Red' (Morgan Freeman) and uses his intelligence to gain favor with the guards. Andy's silent struggle against an unjust and hypocritical system certainly goes out with a bang!
Warm Feelings All Round
Granted, this is not really a film to get your mates round for and munch popcorn over – you do really have to watch it. But far from being depressing, The Shawshank Redemption is actually one of the most uplifting films I have ever seen. More than just the story of an individual man, the film addresses some fascinating social issues such as institutionalization. The inmates hate the walls of the prison, then they get used to them, and finally they come to depend on them. And as for the question of freedom, it seems that the nasty warden does offer one simple truth, that 'salvation lies within'. This is a fantastically directed film, visually pleasing with a convincing cast who make for a wholly heart-wrenching performance. A story of true friendship, which will not be soon forgotten.
Special Features
Shawshank: The redeeming 48 minute feature
Interviews with cast and crew
About The Author