Liberal Arts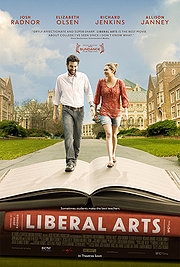 The second feature film to be written, directed and to star Josh Radnor, a man who is still perhaps best known as Ted Mosby from CBS' How I Met Your Mother, Liberal Arts largely dispels with Sundance Film Festival Audience Award-winner Happythankyoumoreplease's Big Apple setting in favour of the small-town campus delights of Kenyon College, Ohio, where Radnor himself once studied.
When Jesse Fisher (Radnor), a 35 year-old graduate now working in the admissions department of a New York City college, is invited out to Ohio to mark the retirement of his second favourite university lecturer, he finds himself nostalgic for the years he spent there reading English and History (just to make sure he was fully unemployable). Introduced to 19 year-old freshman Zibby (Olsen) by mentor Peter Hoberg (Jenkins),  Jesse strikes up a friendship and embarks on a correspondence as he heads back to the capital city.
Engaged in intellectual intercourse over everything from books to Beethoven, Libby eventually asks to see him again, prompting another cross-country drive as Jesse drops everything to return to his alma mater. Befriending a struggling student (John Magaro) and a Zen-like spiritualist (Zac Efron) while on campus, Jesse slowly comes to question his rose-tinted perceptions of university life. As Hoberg begins to doubt his own reasons for retiring, his protégée starts to wonder if it is time that he grew up after all.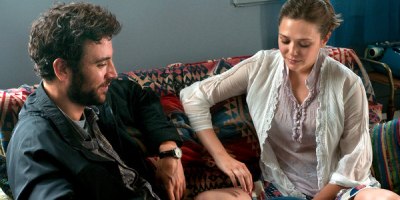 As liberal arts degrees are blamed for the struggling economy and the government revamps the GCSE standard for mathematics and the sciences over the likes of art and drama, Radnor's new film is a rather timely love letter to academia for its own sake. While Radnor and his characters might wax lyrical about the advantages and joys of learning, however, the film is also a gentle critique of such nostalgia and the inhabiting of fictional worlds. Jesse and Zibby may be well-read, erudite and educated, but never in a way that is as unrelatable and downright hateful as the quartet at the heart of Whit Stillman's Damsels in Distress.
After all, you might expect to dislike a character called Zibby, an improv student who makes mixtapes, sends hand-written letters and pointedly says yes to everything, but Elizabeth Olsen cuts through the quirks and exposes the young woman at the centre of the role. Everyone's insufferable in their first year of college, but any irritation is born through insecurity rather than poor characterization. Elsewhere, Efron feels initially miscast as a mouthpiece for bumper-sticker philosophies ("the universe is perfect"), but again side-steps cliché with a hipflask full of water and an aversion to alcohol. Jenkins and Allison Janney's also disarm as the film's faculty members, the former with a love of garish shirts and the latter with a far less romantic view of the world than her lesson plan might suggest.
The real star of Liberal Arts, however, is Jesse, who makes for one of the warmest, most uncynical and well-observed characters to ever lead what is essentially a romantic comedy. Radnor's script is a thing of understated beauty; while it might lack the stylised quotability of other such fare, it deftly mines humour from any and all situations and manages to breathe new life into (or avoid altogether) plot developments that are usually seen as trite or tired. Finding humour in absurdity, sorrow or even the simple act of subtraction, the screenplay's biggest achievement is avoiding the third act contrivance that traditionally seeks to separate our young lovers for some clearly devised drama. The closest Radnor comes is a beautifully played and delightfully trivial argument over some Twilight-esque vampire fiction that is amongst the film's strongest scenes.
A wonderfully positive film that seeks to find at least something to like about everything (except television, for some reason), Liberal Arts might be as wishy-washy as many see the subjects it celebrates, but it perseveres even if through sheer likability alone. Well written, confidently directed and beautifully acted, this is one of the most refreshing romantic comedies that you are likely to see this year.
About The Author