Shrek Forever After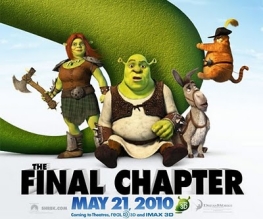 What the Shrek happened?
I didn't want to admit it, but Shrek 4 is the final weary flog of a very dead horse. Caught somewhere between capitalistic drive and over-ambitious ideas for the storyline, the vision for Shrek and Fiona's last on-screen appearance is all wrong. Rammed with cameo after cameo, it can only be described as a noisy, disorientating jamboree (a word I would ordinarily avoid because it reminds me of boiled ham).
The tale depicts Shrek in a classic mid-life crisis. Bored with his domestic lot and disillusioned with fame, he yearns to return to the days when life as an ogre was freer and simpler. Cue the Faustian pact with Rumpelstiltskin, who promises to return Shrek to the good old days when ogres were feared and he could live without interference in swampy isolation. Now what do you think could possibly happen next? Actually, that is not a rhetorical question. With the bones of a tedious rebellion-and-resolution journey culminating in "true love's first kiss", and the meat of sheer pandemonium, the majority of the film is something like Fear and Loathing for kids.
[FLOWPLAYER=http://uk.image-1.filmtrailer.com/29722.jpg|http://uk.clip-1.filmtrailer.com/3716_10074_a_1.flv,275,180]
It's no wonder that all over my peripheral vision were bored and highly bemused little squirming bodies. When Butterpants, a podgy, over-indulged boy requests that Shrek "do the roar" in a funny voice for the fifth time, every child in the cinema (bar the odd genuinely thick one) was left pondering how they had entered the room an easily excitable 9 year old and yet now found themselves reserving their laughter for more inspired wit.
Now, Shrek is not just a series of family films, Shrek is an institution. Perhaps we don't need to be told where and what and why and who on earth is that. Shrek is for the one-liners, the heart-warming love-prevails-over-all philosophy and the genius fusion of pop and fairytale. But, the finale fails on all of these accounts. The one-liners become desperately drawn out and recycled, the all-you-need-is-love thang is scuppered by Shrek's fickle and flighty (yes, fickle and flighty!) nature and the previously tight fusion of influences is now just chaos.
Is there a Shrek of method in all this madness? Or is the whole franchise just ogre the hill? Is all this punning a little Shrek-cessive?
I take no pleasure in doing this. Shrek has been in my life for a long time now, and by Jove we've had some good times. And it must be said, the film does have its moments. Donkey is still one of the most lovable animated characters to blunder endearingly onto our screens. Puss in Boots, who has let himself go, grabs a couple of belly laughs and Cookie, the Ogre Resistance's effeminate chef is without a doubt the best thing to come out of the final chapter.
Shrek longs to not merely "do the roar" but to really roar- to go back in time and roar with feeling. Sadly, this works as a metaphor for Forever After. The energy of Shrek 1 and 2 (let's not talk about Shrek 3) has been exhausted by attempts to optimise the 3D experience and work in as many fairytale characters as can be crammed into a single scene. This last goodbye just prompts a sorry look back to a time when Shrek was the most unique and spirited animation to dance joyously onto our screens, and leaves you wondering where the magic went.
Were you as disappointed with the fourth and final film? Tell us what you think!
About The Author