A Knight's Tale to become TV series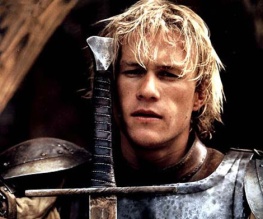 A Knight's Tale was one of the bigger success stories of the early part of the last decade. Released in 2001 on a budget of $40million it ended up grossing over $117million, and made a star of Heath Ledger, so, while it's not terribly surprising that the property is to be continued, it is surprising that it's taken so long. With Heath Ledger sadly out of the picture, and so much time passed, does anybody still care about this particular tale?
Well, with Ronald D. Moore – the man behind the brilliant Battlestar Galactica reboot – writing and producing, we think people might. A Knight's Tale was huge fun, thanks not only to Heath Ledger's charismatic turn as the likable lead, but also because of its complete embracement of anachronism in its jousting plot. Suits of armour embossed with the Nike logo; crowds clapping along to Queen's We Will Rock You on the soundtrack; set in the 1370s, but with everyone looking like they're in the 1970s… the list goes on. As director/writer/producer of the film Brian Helgelend said at the time of release, "the seventies are always the same", regardless of century. We love the thought of Ancient Romans in 70BC decked out in bell-bottoms and jamming to Led Zep.
If A Knight's Tale can keep that same sense of fun on the small screen that it had on the big screen, then it could be a breath of fresh air – provided it does so with moderation. Simply throwing a bunch of modern references into a period show is the sort of lazy gag that the Wayans Brothers revel in, while if they over-egg the modern soundtrack, we could be left with a sickeningly Glee-shaped pudding. And nobody wants that. Nobody.
It'll be interesting to see what Ron Moore can do with a more light-hearted project, after his brilliant – but entirely bleak and humourless – BSG reboot. Unless they intend to write a different character, a lot might rest on who they can get to fill Heath Ledger's spurs, and – assuming the likes of Alan Tudyk and Paul Bettany are too busy to commit to a TV series – who they get to pad out the supporting cast.
We should find out about a year from now, with the show set to debut during the 2013 TV season in America.
About The Author