Alfonso Cuarón's Gravity to land in October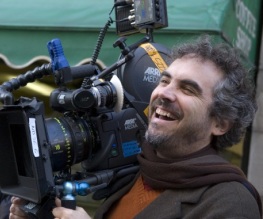 Nearly seven years after his last film Children of Men, Alfonso Cuarón has finally secured a release date for his new film, Gravity. It will hit screens on October 4, 2013. Having previously been scheduled to hit the box office in November 2012, last May Warner Bros. shelved the timetable completely, merely informing the world that Gravity would arrive 'some time in 2013'. We are delighted to hear that our wait (see?) has been cut short, as Cuarón was one of the most interesting directors around before this dark spell, and the rumours surrounding the upcoming flick make for intriguing imaginings.
This stars George Clooney and Sandra Bullock as a pair of astronauts stranded in a space station damaged by an asteroid. Early reports were that the movie is to made up of over 60% CGI, around the same proportion as James Cameron used for Avatar. Penned by Cuarón with his son Jonás Cuarón, the production was in the works at Universal for several years, before being taken over by Warner Bros. Robert Downey Jnr. was originally cast as the male lead, before withdrawing to be replaced by Clooney. The female lead has been associated with various stars over the years, including Angelina Jolie, Marion Cotillard, Scarlett Johansson, Blake Lively and Natalie Portman, before finally being secured by Oscar winner (we still cannot say this without a pinch) Bullock.
With a budget of $80,000,000, the film will be filmed digitally, then, as seems to be the norm these days, converted to 3D after production. Shooting began in London eighteen months ago, and with a release date now secured, it seems the Y Tu Mamá También director has got over his Apocalypse Now-type moment and will be on our screens again in time for the glut of Autumn releases in the run-up to awards season. Excitement and congratulations all round.
About The Author