Amanda Seyfried strips off in new Lovelace clip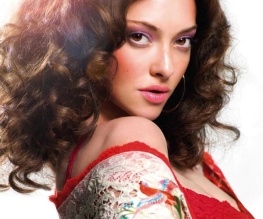 A clip has been released from the upcoming biopic of 70s porn actress Linda Lovelace, starring Amanda Seyfried. It shows a photoshoot with the actress, taken by her second husband, Larry Marchiano, played by American Beauty actor Wes Bentley. Wearing a maroon monokini, Lovelace describes her next film role, saying "At first I'm closed up like a flower bud and then gradually the petals start to open, and then I finally learn about myself and I learn how to enjoy sex. And I feel free!" Watch the clip below.
Linda Lovelace rose to fame in 1972 through her internationally successful hardcore porn film Deep Throat. Later, during her divorce proceedings, she would claim that her first husband Chuck Traynor (here played by Peter Sarsgaard) forced her to perform sexual acts by beating her and by "pointing an M-16 rifle at her head." Seyfried has since named Peter Sarsgaard "the best actor I've ever worked with".
Lovelace was originally to star Lindsay Lohan in the leading role, but she was fired before filming began due to her ongoing travails with drug and alcohol addiction. The biopic is directed by documentary filmmakers Rob Epstein and Jeffrey Friedman and will premiere at Sundance this week. It also stars Juno Temple, Sharon Stone, Adam Brody and James Franco.
About The Author