Anchorman 2 may feature Terence Stamp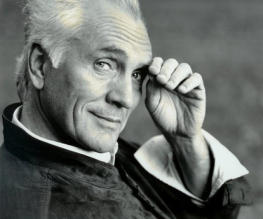 NEWS JUST IN! Legendary actor Terence Stamp may be joining the Anchorman: The Legend Continues cast as a celebrated media mogul. It's been reported that "Will Ferrell's people" have been having fun chats with General Zod (that's Terence Stamp, to Superman newbies) and at a recent screening for Song for Marion in the UK, Stamp commented that he'd "love" to do it and would play a "Rupert Murdoch-type figure". DO IT PLEASE.
Anchorman: The Legend Continues has been blasting our brains everywhere recently with all its exciting announcements. Director Adam McKay tweeted the arrival of Bridesmaids star Kristen Wiig to the cast, tipped to star as a potential love interest for Steve Carrell's character, and we were also told that the sequel will include musical numbers. Along with the return of the original cast Will Ferrell, Steve Carrell, Christina Applegate, David Koechner and Paul Rudd, we're freaking stoked. Rudd also let loose in an interview that Anchorman 2 will be based on a 24-hour news format, whatever that means.
Things then got even more heated at the Song for Marion screening when Terence Stamp divulged that he's written a "loose" sequel to Steven Soderbergh's 1999 thriller The Limey, in which he plays an ex-con convinced he knows who was responsible for his daughter's death and hunts to track him down – Taken-style. Omg he's the original Liam Neeson. So far there nothing is set in stone regarding both Anchorman 2 or The Limey 2, which is driving us crazy, but if The Limey 2 were to happen it would star both Stamp and Julie Christie.
Anyway, Anchorman 2: start your filming.
Love Terence Stamp? Love Anchorman? IMAGINE THE TWO TOGETHER. Write us a dream sequence involving both:
About The Author