Godzilla might recruit Juliette Binoche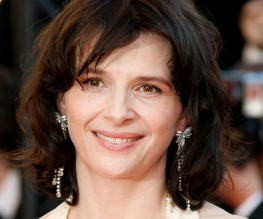 Exciting things are happening for cinema in the summer of 2014, not only is it shaping up to be an extraordinary few months of superhero film wars (X-Men: Days of Future Past, Guardians of the Galaxy, The Amazing Spider-Man 2, Ninja Turtles) but we'll be swimming in long-awaited sequel releases like Transformers 4, Jurassic Park IV and, the reason we're all here in the first place, Gareth Edwards' Godzilla reboot.
A few weeks ago we told you that Elizabeth Olsen had signed on to Godzilla alongside Kick-Ass star Aaron Taylor-Johnson. Breaking Bad lead Bryan Cranston is still in talks to star, and now Oscar-winning actress Juliette Binoche has been added into the mix. Boasting an impressive filmography including Chocolat and The English Patient (for which she won the Oscar for best supporting actress), Binoche's potential recruitment will add a rather sophisticated range of acting talent to Godzilla. Maybe it won't all be monster mash ups and showy-offy 3D – not that we have a problem with any of these things.
No word yet on who Juliette Binoche might be playing. Naturally, those folks over at the Godzilla offices are keeping schtum on anything besides dangling Cranston and Binoche in front of us like a carrot. Interestingly, Binoche turned down the lead in Jurassic Park all those years ago. Making up for lost opportunities, perhaps?
The million dollar question: Godzilla or Jurassic Park IV? Which do YOU think will take the prize for best giant reptilian?
About The Author