Jennifer Aniston and Owen Wilson to reunite for some reason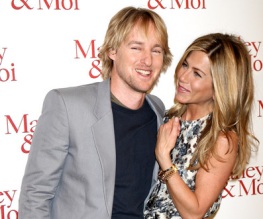 Peter Bogdanovich, whose last good film was Paper Moon forty years ago, is to reunite that sparkling modern coupling reminiscent of such classic partnerships as Spencer Tracey and Katharine Hepburn, Fred Astair and Ginger Rogers… yes, we mean of course Jennifer Aniston and Owen Wilson. Since the joy that was Marley and Me, audiences have no doubt been petitioning the White House, going on hunger strike, and chaining themselves to Downing Street to see the star pair reunited, and we are glad to report that both will indeed be starring in Bogdanovich's upcoming She's Funny That Way.
Bogdanovich, for those not aware of him, burst onto the Hollywood scene in the late sixties and was responsible for the classic The Last Picture Show which gave Jeff Bridges his first major film role in 1971. After Paper Moon two years later, his works went into a sad decline and his last feature was 2001's The Cat's Meow. Sadly, the upcoming film's original title, Squirrel to the Nuts, has been dropped. As for Aniston and Wilson, both grace our screens pretty regularly but all agree they've never reached the heights individually that they managed to scale as a couple in the before-mentioned Marley and Me.
Aniston will play a therapist whose mother is in rehab opposite Wilson, portraying a Broadway director trying to launch the acting career of a former prostitute. Starring alongside them in this potentially hilarious romp are Eugene Levy (the dad from American Pie), Jason Schwartzman (who normally stars in Wes Anderson films) and Cybill Shepherd (who made her film debut in…The Last Picture Show – perfect!). No release date has been set yet for She's Funny That Way, but we'll keep you posted, don't worry.
Is there any modern screen couple more beloved than Aniston and Wilson? Who can rival them? LET US KNOW!
About The Author