Martin Freeman confirmed as Bilbo!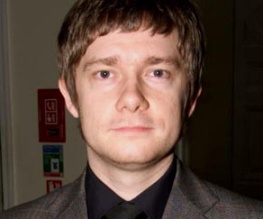 Martin Freeman has been confirmed for the key role of Bilbo 'look at my magical ring' Baggins in The Hobbit.
Frankly, after running articles covering Guillermo Del Toro's departure from the project, David Yates' rumoured involvement, Peter Jackson's eventual move from producer to director, Freeman's apparent decision to make Sherlock instead and finally last week's news that the films had finally been green-lit, we're exhausted.
Mind you, that doesn't mean we can't still get excited about the other juicy bit of news which has come our way from the Shire this morning – following Kiwi PM John Key's unsuccessful attempt to stop the Hobbit project being blacklisted by New Zealand actors' unions, it now sounds as if Warner Brothers may take their half-billion dollar stake and transplant the whole project overseas. And guess what? Rumoured locations include the disused Harry Potter sets right here in England! A continuity nightmare it may be, but since Tolkien always imagined Middle Earth as looking like Yorkshire we think he'd be quietly chuffed.
About The Author