McKellen and Serkis join Hobbit cast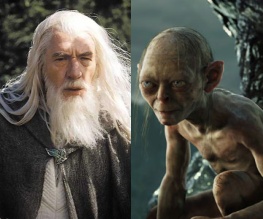 Finally, some Hobbit-based casting news which doesn't fly in the face of the book! Ian McKellen and Andy Serkis have finally confirmed that they will return to Peter Jackson's Tolkien prequel as, respectively, Gandalf the Grey and Gollum, which is a pleasant treat after the recent news that spectacularly irrelevant characters Galadriel, Legolas and Frodo Baggins are all slated to appear.
The Hollywood rumour mill has also hinted that Christopher Lee is in talks to reprise the role of Saruman despite having previously ruled himself out as too old to travel to New Zealand for filming, and speculation is rife over whether or not sequences featuring Frodo will require an appearance from Ian Holm (who played Bilbo in the LotR trilogy) to complement Martin Freeman's younger, more adventurous and hopefully less scary take on the troublesome Hobbit.
Which other arbitrary Lord of the Rings characters would you like to see shoehorned into The Hobbit? (Our money's on that cockney Orc that got battered by Treebeard.) Let us know below!
About The Author