New A-Team get some Nuts!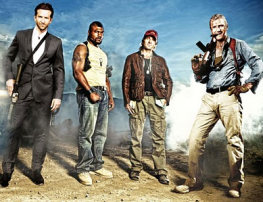 The stars of new movie The A-Team turned out in style on the red carpet last night for the premiere at Leicester Square. The cast defended the film against criticism that it doesn't match up to the 'fun and family entertainment' of the original 1980s TV series on which it is based. The new picture follows a group of Iraq War veterans who seek to clear their names with the US military, having been framed for a crime that they didn't commit.
Mr T, who originally played Sergeant BA Baracus, has commented that the film is 'too graphic' and overridden by sex and violence. He has shown little support to the cast who claim that they wanted to make the story their own and bring it into the 21st century. Director Joe Carnahan however, has said that Mr T's words have been taken out of context. Perhaps he'd just eaten a dodgy Snickers bar or something?
Sadly, the cast didn't arrive in a giant tank as they did at the Tokyo premiere last month, but there was still a loud buzz surrounding the actors. Comments were made about Jessica Biel's somewhat messy hairstyle but she still stunned the crowds in a floor length red gown – and that dishevelled look is in right? Bradley Cooper also proved popular, taking a photo of himself amongst the screaming fans.
The stars may have big shoes to fill with this latest endeavour, but Liam Neeson has certainly won our votes in speaking out against MP Jeremy Hunt's decision to axe the UK Film Council. Right on my man, right on!
About The Author