New Happy Feet Two Trailer Released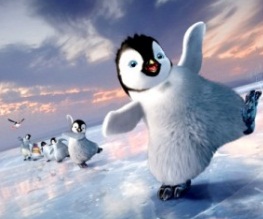 Warner Bros. have released a new trailer for Happy Feet Two. The trailer reveals a lot more about the story than the first, but still makes time for sneaky helpings of the penguin versions of 'Mama Said Knock You Out' and 'Sexy Back'.
Back to the story. Mumble (Elijah Wood), the protagonist from the first film, and Gloria (Pink) now have a son of their own, Erik (E.G Daily), who is afraid to dance after an embarrassing incident during a penguin group dance fiasco. So he runs away and meets The Mighty Sven, a penguin who can fly. Mumble then finds himself competing for his son's affection and is faced with an even greater danger that threatend penguins everywhere.
Matt Damon, Hank Azaria, Robin Williams, Sofia Vergara, and Brad Pitt also provide voices in this sequel directed by George Miller. Happy Feet 2 is set to get its dancing shoes on ready for a 3D release on 18th November 2011.
Are you happy for the new Happy Feet trailer? Stamp your comments in below
About The Author