Star Trek Into Darkness poster revealed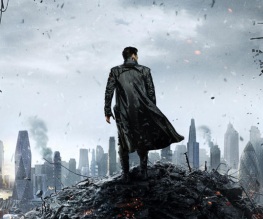 Star Trek Into Darkness has been kept remarkably quiet, all things considered. There have been some juicy cast announcements and a plot synopsis recently surfaced, but the hype machine hasn't exactly been in overdrive. Just the way mysterious rascal JJ Abrams likes it, we imagine. However, like the first thaw of spring, a teaser poster has arrived, surely heralding what will soon be an unbearable deluge of all things Trekkie. Left click into largeness: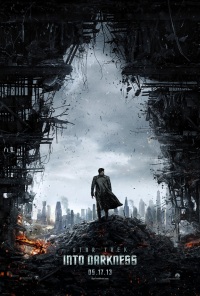 If the poster for Star Trek Into Darkness looks familiar, that's because a big action film poster isn't worth a cheap black frame if it isn't on trend with some Heroic Chrome Destruction. Nothing says serious action like an urban apocalypse splashed in grumpy greys and eye-catching oranges (usually flames, because the destruction is RECENT), and it isn't complete without some kind of symbol or a figure standing atop the wreckage. See Dredd, The Dark Knight, Transformers.
So the poster for Star Trek Into Darkness isn't exactly a breath of fresh air. But we just can't help but be excited, because that's how braindead and undemanding our eyes have become. Sorry, but WHO is that badass framed by the Federation insignia? It might be Neo. More likely, it's Benedict Cumberbatch, as Chris Pine's hair simply isn't capable of such a shape. And is that London's famed Gherkin standing amidst the carnage of a possible future London? Why would Sherlock do such a thing to his hometown? WHY? This is the kind of analysis you come here for.
How do you feel about Star Trek's poster-y carnage? Let us know below
About The Author