Stoker adds Mia Wasikowska and Matthew Goode to cast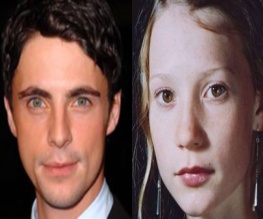 The casting process for horror/psychological thriller Stoker is fast becoming one to watch. Mia Wasikowska (Jane Eyre, Alice in Wonderland) has been cast as Stoker's female lead, and now the male lead has been confirmed as Matthew Goode (Watchmen, A Single Man). Plot details are still hush hush, but we do know that Stoker concerns a young woman (Wasikowska) whose estranged uncle (Goode) returns right after her daddy dies.
Left to haphazardly speculate, we think that Stoker will reference a certain Mr Bram Stoker's most famous creation (pssst that's Dracula fang-bangers). But what really makes Stoker exciting is that it is to be directed by Park Chan-Wook (of amazing Korean goreathon The Vengeance Trilogy fame) as his first English language film, and Nicole Kidman and Colin Firth are also on board. Stoker starts filming later this year.
About The Author