The Girl With The Dragon Tattoo gets a racy poster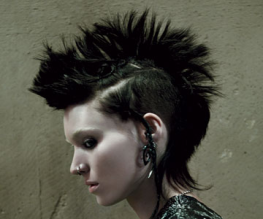 Nothing like a bit of boob to get people excited about a movie, eh? The folk behind the poster for the upcoming The Girl With The Dragon Tattoo remake, starring Daniel Craig and Rooney Mara, think so any way. You were probably umming and ahhing over whether you were going to see this film, not feeling sure whether there'd be enough nudity. Well if they put this on the poster, imagine what's in the film! It'll be sheer naked madness, I tell you. Take a look:
Mara, who you'll recognise from the first scene of The Social Network and last year's A Nightmare on Elm Street is clearly happy to go all out in her attempt to be a suitable replacement for the character originally played by Noomi Repace.
The tag line is pretty intense too. Could this Fincher remake be darker and more extreme than the original?
About The Author