The Hobbit: There and Back Again releases first image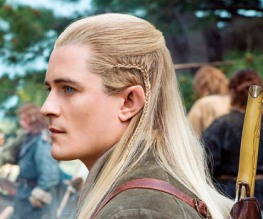 The Hobbit: An Unexpected Journey is creeping closer and closer to its release date, with the screams of all that hairy-footed excitement reaching danger pitch, but Peter Jackson has his eyes firmly set on the rest of the trilogy. The first image from The Hobbit: There and Back Again has just arrived and *gasp* *scream* *swoon* IT FEATURES LEGOLAS!
Yep, Orlando Bloom's golden-haired, pointy-eared, softly-spoken Legolas will return in The Hobbit: There and Back Again, despite never making an appearance in the actual book, The Hobbit. (You mean there's a book?! Is it set in New Zealand?). Jackson defends this deviation from his source text with the suspiciously valid-sounding claim; "He's elven king Thranduil's son, and Thranduil is one of the characters in The Hobbit, and because elves are immortal it makes sense Legolas would be part of the sequence in the Woodland Realm". Oh Peter Jackson, you wily fox! Go on, then, you've convinced us.
Bloom appears in The Hobbit pic alongside Luke Evans' Bard the Bowman, a key character in the second and third films, and one that producer Philippa Boyens has been dropping some golden little nuggets about: "We take more time introducing him. We know from what follows that he was a father, so we explore that. I don't think we take liberties, because it's all there in the storytelling." We're sure Tolkien would be proud.
So shall we have a look at the long awaited snapshot, boys and girls?! Click to enlarge.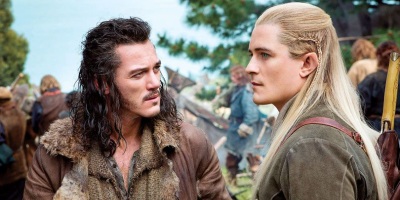 What a Kodak moment – two regular guys, hangin' out, chattin' about how best to grease their bows and the latest fashion for rhombus-shaped ears. Is it bad that we're a little bit excited already? Yes, we are very aware that this tasty little image is an amuse-bouche designed to keep us all on tenterhooks for The Hobbit through the whole three bloody instalments but LOOK AT HIS PRETTY BLUE EYES!!! Peter Jackson, you have tricked us with your witchcraft…
With Legolas appearing as 'more than a cameo' and Ian McKellen, Christopher Lee, and Cate Blanchett also reprising their Lord of the Rings roles, if we could see another of the Fellowship's fellowship jump on board the Hobbit train, who would it be?
About The Author