Twilight takes everything at MTV Movie Awards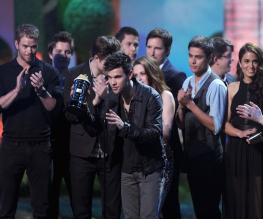 Sunday night saw the stars gather for one of the most highly anticipated nights in the movie awards calendar. Of course, I'm talking about the TWILIGHT IS AMAZING awards, otherwise known as the MTV Movie Awards.
The MTV Movie awards sit in an uncomfortable position in the awards hierarchy. If award shows were dances, ballet being at the top, it would be a drunken hoedown complete with mechanical bull.
Taking all of the top prizes was The Twilight Saga: Eclipse. Not only did it win
Best Film, beating Oscar nominees Inception and The Social Network, its stars Kristen Stewart and Robert Pattinson won Best Actress and Actor, respectively, as well as the Best Kiss Award.
To top it off, Vampire Edward Cullen got the Best Fight gong for his scrap with Bryce Dallas Howard, beating the astonishing zero-G sequence from Inception.
Best Jaw-dropping Moment went to Justin Bieber's 'performance spectacular' in his film Never Say Never. Next year's best jaw dropping moment will be going to the MTV Movie awards for their performance in awarding Justin Bieber the Best Jaw-dropping Moment Award.
Obviously, the awards are voted for by the viewers, so we can't be all snobby about this. After all, any ceremony with an award titled The Best Scared as S**t Award is alright with me (It went to Ellen Page in Inception, by the way).
About The Author