Universal Soldier: Day of Reckoning red-band trailer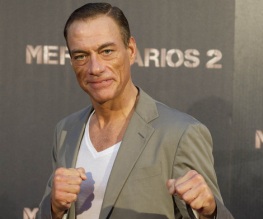 Universal Soldier, the not very good, but still fondly remembered sci-fi action film from 1992 has already spawned several sequels, some of which were so bad they've been removed from the canon by Universal Soldier head honcho James Hyams. The two TV movies are obviously to be ignored, but curiously, so is the first theatrical sequel, Universal Soldier: The Return. The franchise was rebooted in 2009 by Hyams with Universal Soldier: Regeneration, which acts as a direct sequel to the first Universal Soldier, ignoring everything else. Keeping up? Because even in the world of sci-fi, this is pretty convoluted.
While Regeneration was only released in cinemas in certain nations (it went straight to DVD in the UK and the US), star Jean-Claude van Damme's career has recently been given a metal-plated boot up the arse through the success of The Expendables franchise and various amusing beer adverts. As a result, he's about to return for a new sequel proper, along with fellow Expendable Dolph Lundgren.
The sequel, Universal Soldier: Day of Reckoning has just released a red-band trailer, and do you know what? It doesn't look half bad. Take a look below.
While the strobe effects over the title-cards are just horrible, the rest is quite competent. The trailer, as you might expect, features plenty of people getting shot at and beaten up, but it also highlights the film's themes; namely the psychological damage inflicted on the men who were made into Unisols and their attempts to rip free of the leash the government has kept them on. The trailer's soundtrack sounds more akin to a horror film, building to an all encompassing crescendo, and a nicely moody atmosphere is evident throughout the footage.
While the two stars haven't chosen the best films in recent years, the 80s action revival continues apace, and here the action looks solid, the story has potential (plenty of possible parallels with the psychological damage suffered by Iraq war vets, if the script is smart enough to draw them), and the look and atmosphere appear far classier than anything we might expect from what is traditionally a bargain-bin franchise.
Universal Soldier: Day of Reckoning is to debuts on Video On Demand on 25 October, which will soon be followed by a theatrical run from 30th November 2012 in the United States (the UK date is yet to be confirmed.)
What do you think of the trailer? Does the Universal Soldier have life in him yet? Sound off below.
About The Author