Vivienne Jolie-Pitt to cameo in Maleficent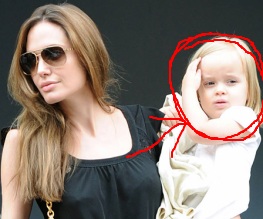 A mere few weeks after news broke that Jamie Foxx was exercising his star power to secure a role for a close friend in his upcoming film Django Unchained, Best For Film has learnt that Hollywood nepotism is, once again, rearing its ugly head. And this time that head has the face of a tiny child.
Vivienne Jolie-Pitt, twin sister of Knox, spawn of Brad and Angie, will be taking up a small role in the upcoming fairy-tale-turned-on-its-head Maleficent alongside her mother. Helmed by visual effects expert and first time director Robert Stromberg, the film will tell the story of Sleeping Beauty's nemesis Maleficent, focusing on what exactly it was that led her to become, you know, such a giant asshole. Angie is taking the lead role, alongside Elle Fanning as Princess Aurora, whom Vivi will be playing a younger version of. As of yet, the film has no UK release date but you can expect to be watching little Vivi strut her stuff sometime in 2014.
So what do you think? Is this a disgusting abuse of fame or is Vivienne Jolie-Pitt set to be the next Daniel Day-Lewis? Let us know below.
About The Author