Samson and Delilah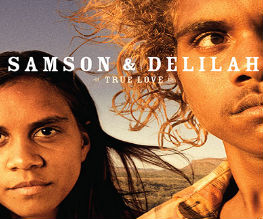 Winning the Camera D'Or at Cannes, the Australian movie directed by Warwick Thornton tells us the story of two Aboriginal teenagers living in the Australian outback. Although barely a word is spoken between the two main characters, Delilah and Samson begin an affectionate relationship when faced with the hardships of living in absolute poverty. If you are expecting an Australian version of the biblical story you will be disappointed. Although both Delilah and Samson do cut their hair in the film, symbolically it is at times when they require emotional strength in the face of adversity.
Delilah and Samson
[FLOWPLAYER=http://uk.clip-1.filmtrailer.com/4026_10367_a_3.flv,275,180]
Delilah and Samson live in what can only be described as a very small shanty town cut off from all the conveniences of modern life. Delilah helps care for her elderly grandmother and makes a meagre living helping her grandmother sell Aboriginal art to tourists. Samson, on the other hand, passes his time getting high off petrol fumes. When Delilah's grandmother dies and Samson gets into a violent argument with his brother, they steal a truck and run away living under a motorway bridge for a time. Life doesn't get any easier for the couple as they are subject to racism and violence. Delilah is predominantly the victim of this violence as Samson is usually too high off petrol fumes when she needs him to protect her. As a result, their relationship is tested as they grapple with the basics of survival.
Award Winning Australian movie
For a film with very little dialogue the story flowed well and wasn't tedious to watch. The film provides us with an interesting insight into the Aboriginal lifestyle. Warwick Thornton, an Aboriginal himself, portrays a damning view of the marginalisation of Aborigines in Australian society. Although slow-moving at times, the lack of dialogue only draws us more to the film's impressive cinematography. We are taken through Delilah and Samson's developing relationship not through words but by carefully choreographed looks, glances and very minor acts of affection. The lack of dialogue also enhances the sudden, unexpected acts of violence in the film which make them all the more jarring and shocking to watch. As well as this, we are treated to Thornton's dramatic shots of the Australian outback . Overall a very compelling, emotional piece of cinema.
What did you think of this Australian movie? Let us know below…
About The Author