Funny People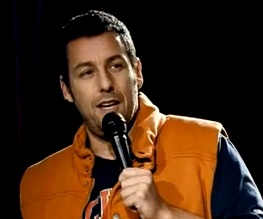 It's always a bit awkward when Adam Sandler tries a serious role. He's actually got a lot better at them over time – 2007's Reign Over Me was a particularly underrated triumph – but still, whenever he's up there striking a grave pose or having a touchingly emotional outburst, we just always feel the urge to yell, "Come on, do the Billy Madison voice! Sing a deranged version of 'Love Stinks'!" So when viewing this comedy-drama in which Sandler plays a successful comedian coming to terms with a cancer diagnosis, we approached with caution. The addition of new comedy wunderkind Seth Rogen as the struggling amateur comic that Sandler's character decides to mentor added a little cred, but we still weren't entirely sold on the concept. Could these two goofballs put aside their penchant for the ridiculous long enough to give us a convincing portrayal of two funnymen drawn together through illness to form an unlikely bond?
Well, they don't do a half-bad job of it. Sandler, as comic star George Simmons, who begins to reexamine his somewhat shallow celebrity lifestyle after learning he has leukemia, once again proves his chops as an emerging actor of the serious kind (if only he could get more doubters like us to buy it). The moments of pain and fear as he is weakened from experimental drug treatments and faced with his impending mortality feel truly intimate, his anger and disillusionment with the world thoroughly believable. Rogen is equally capable (if a little bit more on the goofy side of serious) as his long-suffering sidekick Ira – you really feel the respect he has for his comedy idol, and the more personal attachment that grows between the two men as Simmons leans on him more and more during his illness. Of course, both men know a thing or two about delivering a classic one-liner, and with current king of the genre Judd Apatow's snappy writing behind them, there are laughs aplenty – one particular scene when George and Ira visit a Bond-villain-lookalike oncologist had us helplessly wiping away tears. Also stealing plenty of scenes for himself is Superbad's Jonah Hill as Ira's housemate and fellow aspiring comedian Leo, and Aussie Eric Bana gets a rare chance to stretch his comedic legs as a romantic rival of George's.
Where Funny People falls down, though, is that you're never sure entirely what kind of movie it's trying to be. One moment you're flying high as Sandler and Rogen unleash line after line of hysterical material, the next moment you're going, "Bloody hell, that's right, this bloke's dying of cancer!" It feels more than a little unbalanced, and when a clumsy romantic subplot involving Simmons' childhood sweetheart (Leslie Mann) takes the film off in another direction entirely, it only makes things more confused. Although there are touching dramatic moments, fantastic comedic writing and the two leads try their damnedest to make the patchy material they've been given work, it just doesn't quite come together the way it should. We can't help but feel it's because writer/director Apatow is a little out of his league tackling such a serious subject.
Despite its patchiness, this film can still be enjoyed for the sum of its parts rather than the whole. It's not as good as it could be, but it's still worth a look for some of the heartiest belly laughs you're likely to get during miserable old winter.
Special Features
Deleted, Extended and Alternate Scenes
Gag Reel
Ad Libs & Outtakes
Adam Sandler & Judd Apatow Prank Call Home Video
Funny People Diaries
Judd Apatow's High School Radio Show
Feature Commentary with Judd Apatow, Adam Sandler and Seth Rogen
Adam Sandler, Seth Rogen and Judd Apatow Archive Footage
The Films of George Simmons
More Scenes from 'Yo Teach!'
James Taylor Live Performance
Adam Sandler & Jon Brion Live Jam Session
About The Author