Chronicle scribe Max Landis developing vigilante TV show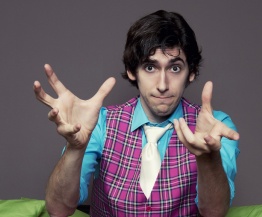 While this may not strictly be about film, it is tangentially related to a man who pens them, and at any rate, it's our website, we'll write what we want. Deal with it.
Max Landis, son of John, and the man who wrote the superb Chronicle earlier in the year, is taking his talents to the small-screen. Landis is writing a pilot for Fox titled Vigilant, with Homeland producer Howard Gordon attached to executive produce.
Vigilant will see Landis – much like he did with sort-of superhero movie Chronicle – subverting the norms of another comic-book style sub-genre. The show will focus on the daughter of a senior police official who creates a vigilante alter-ego in order to fight crime and the corruption that runs through the police department. Described in many places as a "superhero show", Landis is keen to distance himself from that tag. "Calling Vigilant a "superhero show" is a lot like calling Taxi Driver a pre-cursor to Spider-Man 3."
Based on that, we can expect a level of realism in our vigilante that would bring Batman and his broken-spine-mending, Bat-plane-flying, nuclear-explosion-dodging vigilante self to his knees.
Max Landis (for there is no greater Landis than he) is clearly a man in demand, as aside from Vigilant, he's also busy penning a sequel to Chronicle (in which we'll meet the world's first ever supervillain), and developing a version of Frankenstein told from Igor's point of view, and rumoured to be set in a circus(!).
All of his upcoming projects sound interesting, and if Landis can bring the naturalistic dialogue and thoughtful tendencies he brought to Chronicle to his next projects, then we could be in for some real treats.
About The Author