Demi Moore and Adrien Brody join Lovelace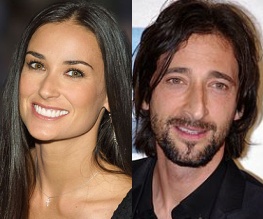 We think Lovelace might actually happen. After finally finding its star in Amanda Seyfried, the biopic of troubled adult star Linda Lovelace began shooting last month – and it's just acquired two key cast members.
Demi '@mrskutcher, but not for long' Moore will play legendary feminist spokeswomanperson Gloria Steiner, whilst Adrien 'look what a long face I've got' Brody is onboard as moustachioed superstud Harry Reems. Reems was Linda Lovelace's costar in Deep Throat, the 1972 film which brought her to public attention and forced adult entertainment into the mainstream.
Julia Roberts' brother Eric (Sal Maroni in The Dark Knight) will also appear as polygraph expert Nat Laurendi, who interviewed Lovelace to ascertain the truth of various claims she made in her book Ordeal. If you fancy feeling uncomfortable, you can read part of the transcript here.
Amanda Seyfried is still playing Lovelace (she's lasted longer than her predecessor Olivia Wilde), whilst Peter Sarsgaard costars as her abusive husband Chuck Naylor. Rounding off the cast are Sharon Stone, Juno Temple, Wes Bentley (Ricky Fitts from American Beauty! Hello again, Ricky Fitts from American Beauty!), Hank Azaria, Robert Patrick, Bobby Cannavale and Chris Noth.
Meanwhile, no more news on rival biopic Inferno, now starring Malin Akerman after Lindsay Lohan spent three solid years publicly losing her shit. This throat ain't deep enough for the both of 'em…
About The Author