Rooney Mara joins new Soderbergh flick Side Effects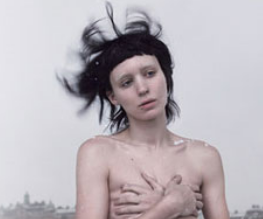 Absolutely refusing to keep to his promise that he's going to quit this film malarkey and go PAINT PAINT PAINT his heart out, Steven Soderbergh has snaffled Rooney Mara for his next project; an action thriller about a woman who does a bad murder whilst all hopped up on drugs. So… he didn't want Gina Carano back then?
Having produced the mostly passable Haywire and the slightly more mostly passable Contagion last year alone, Soderbergh is making it his mission to work with every famous person in the entire world. He's reuniting with old pals Channing Tatum (Haywire), Catherine Zeta Jones (Ocean's Twelve) and Jude Law (Contagion) for his new film, and has replaced Blake Lively with the Dragon Tattoo star. Just an excellent decision. Rooney Mara is proper, proper good.
The film is centred around Mara's character – a woman named Emily Hawkins – who seemingly commits murder whilst loaded up on anti-anxiety medication. It's a great premise for a swishy Soderbergh thriller, and hopefully with a brilliant lead actress heading up a sexy cast Soderbergh will be free to indulge in his trademark slick.
After that, of course, he'd back on Magic Mike duties, and after that he's due to start filming a HBO film called Behind The Candelabra. But what about the art, Steve? Why are you depriving us of your art?
About The Author